Meet Our Director – Jeanette Adams
Mrs. Adams has been in Early Childhood Education for 20+ years. She has her Associates Degree in Early Childhood Education and is Director Qualified. She has taught all levels of development from birth thru Junior Kindergarten and has a passion and love for Early Childhood Development. Mrs. Adams also has been developing curriculum for various local preschools for the past five years. She loves to mentor teachers and support parents in the challenges of educating and raising children.
Mrs. Adams' favorite Bible verse is Jeremiah 29:11
"For I know the plans I have for you…plans to prosper you and not to harm you, plans to give you hope and a future."
Early education sets the foundation for lifelong learning. During the preschool years, your child will grow in astounding ways, building those critical foundations, developing an identity in Christ, and maturing socially, emotionally, and physically. St. Timothy's Christian Preschool partners with families during this important developmental period, providing a safe, nurturing environment and reinforcing the Christian values first taught at home.
We are pleased to offer programs for two and three year olds, along with a Kindergarten Readiness Program. Each class offers a developmentally appropriate curriculum, compassionate teachers, and exciting, hands-on learning opportunities. Multiple schedule options are available to meet the needs of each family. Choose a two-day, three-day, or five-day schedule, as well as half-day or full-day classes. We also offer before school care and after school care in our preschool Enrichment/Plus program.
We are located in the San Francisco Bay Area in South San Jose
near the intersection of Highway 85 and Camden Ave.
We have a big, beautiful campus and would love to show you around!
To set-up a tour, please fill out the INQUIRY FORM and one of our Admissions Staff will contact you.
Click on a link below for more information about the different programs available.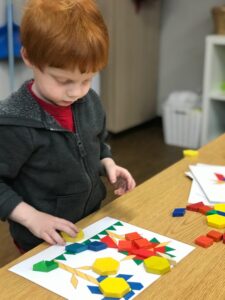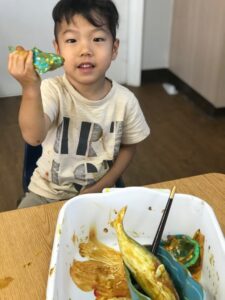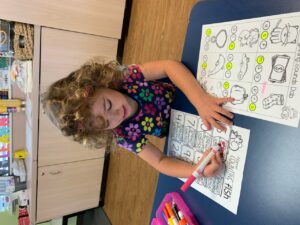 Ms. Katy has been a member of the St. Timothy's church family for over 15 years! She loves children and has a B.A. degree in Psychology as well as 9 units in Early Childhood Education. She has been married to her husband, Michael, for 25 years and has two daughters, ages 19 and 22. She loves supporting the staff and families here at St. Timothy's Christian Preschool. When not in the office, she works as a fashion stylist and loves to hike, read, and bake!
One of Mrs. Stamos' favorite bible verses is
Proverbs 22:6
"Start children off on the way they should go, and even when they are old they will not turn from it"
Assistant Director and
Kindergarten Readiness Teacher
Mrs. Laffoday teaches in our Kindergarten Readiness class and is extremely honored to be a member of St. Timothy's staff. She has been teaching young children for over 31 years. She attended West Valley College and holds over 37 units in early child development. Ms. Laffoday is married with an 18 year-old son. She hopes to obtain her AA now that her son has graduated high school. Ms. Laffoday is truly passionate about teaching and strives to make her class a fun learning environment. In her spare time she enjoys cooking, baking and playing computer games!
Her favorite Bible verse is Psalm 20:4
"May He give you the desire of your heart and make all your plans succeed"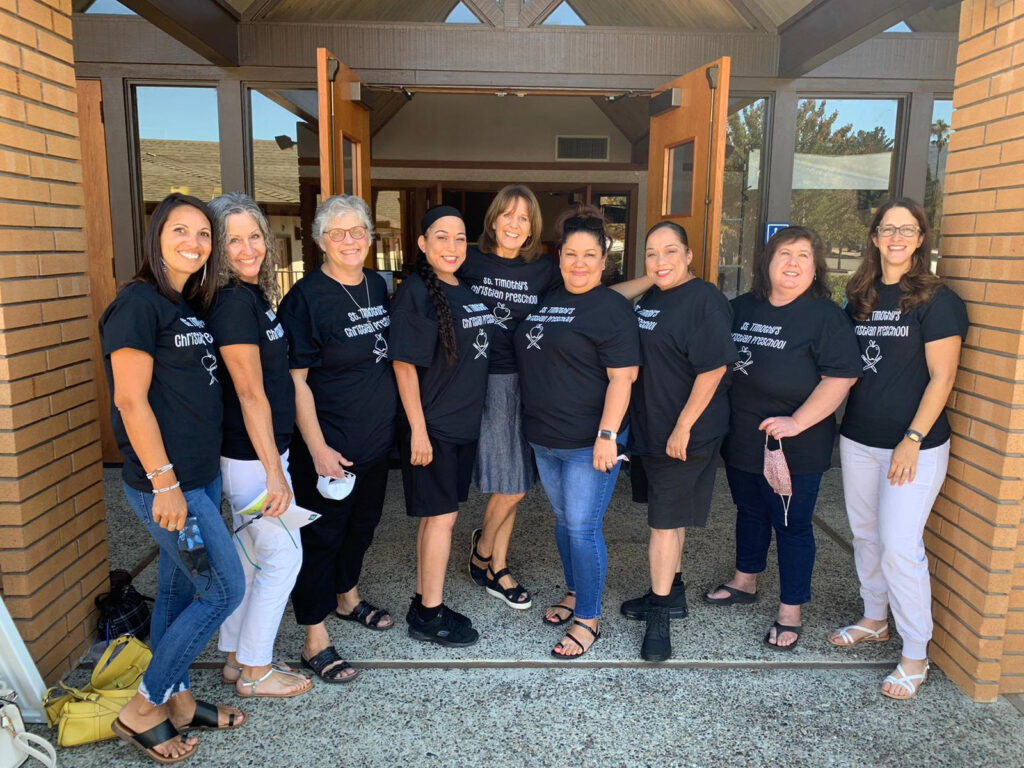 From left to right: Katie Feuquay, Pamela Taboada, Debra Mandanici, Sherene Saenz,
Katy Stamos, Valena Bocanegra, Shawnese Laffoday, Susan Mapes, Michelle Miller
Interested in joining our team? We accept resumes year-round.
Since 1979, our students have thrived in a nurturing and Christ-centered learning environment. We believe the best preschool program is designed to support the whole child in accordance with the concept that children are developing in several areas simultaneously and that each of these areas of development is equally important to the child.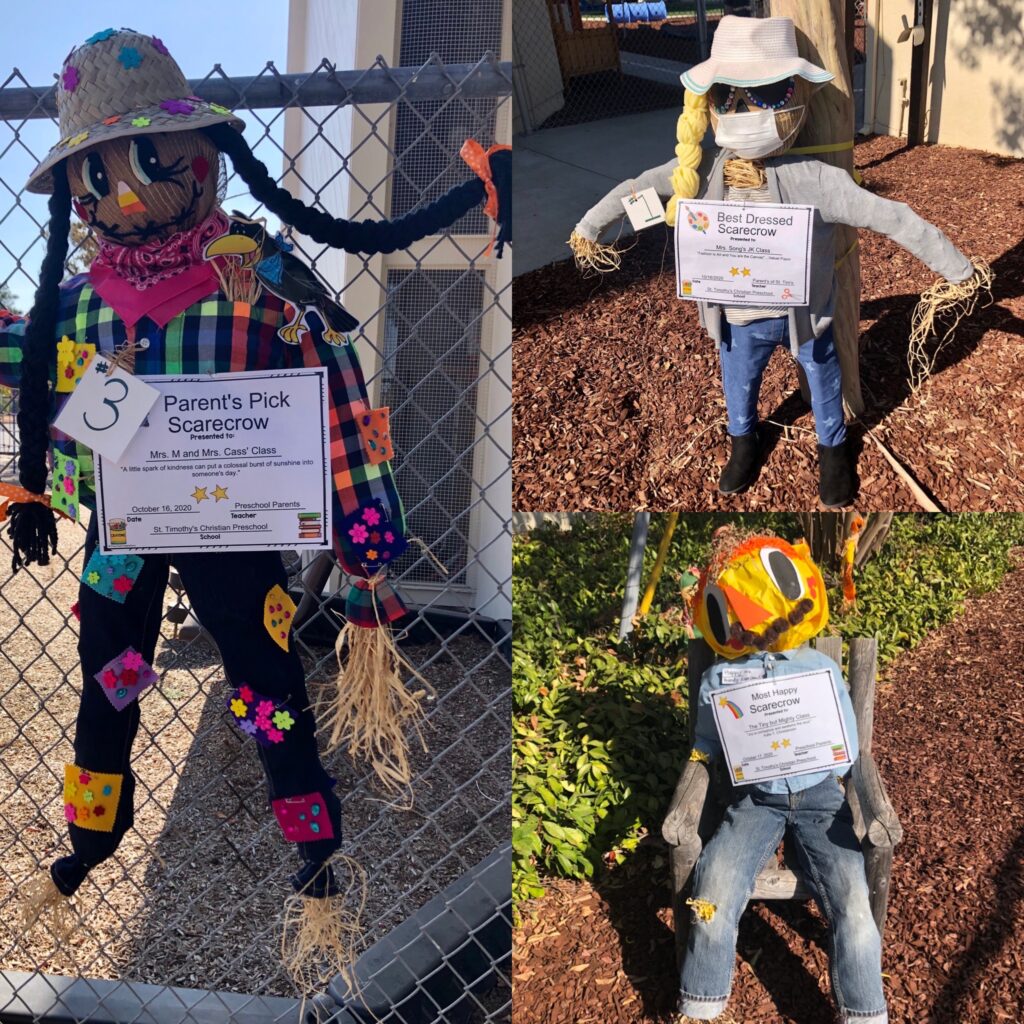 What our parents say about us:
My daughter is in this wonderful preschool and we couldn't be happier with the loving, hands on and learning environment of this school! -Jennifer
Both of my children attend preschool at St. Timothy's Christian Preschool. We could not be happier with the quality of education they receive (even at a young age), balanced with Christ centered learning, and love for each child expressed by their teachers. We like the small class sizes and attentiveness of the entire staff to our individual child's education! I would highly recommend this school (and church) for anyone looking for a new school for their children! -Josh
My son started at St Timothy's last fall in the Preschool 2s class. It has been absolutely wonderful and I can't wait for him to continue here for the next few years. The teachers are caring and engaged, the kids are exposed to so many creative and educational activities – a great balance between play and curriculum, the school environment is warm and friendly and the classrooms are a perfect learning environment. It's a true preschool. We have been so, so happy with our decision to enroll our son here.-Janel
Excellent environment to teach faith-based curriculum and develop a child's sense of self, play, and nurturing creative thinkers. Check it out, you'll be glad you did! -Akeem