Ms. Katy has been a member of the St. Timothy's church family for over 15 years! She loves children and has a B.A. degree in Psychology as well as 9 units in Early Childhood Education. She has been married to her husband, Michael, for 25 years and has two daughters, ages 19 and 22. She loves supporting the staff and families here at St. Timothy's Christian Preschool. When not in the office, she works as a fashion stylist and loves to hike, read, and bake!
One of Mrs. Stamos' favorite bible verses is
Proverbs 22:6
"Start children off on the way they should go, and even when they are old they will not turn from it"
Assistant Director and
Kindergarten Readiness Teacher
Mrs. Laffoday teaches in our Kindergarten Readiness class and is extremely honored to be a member of St. Timothy's staff. She has been teaching young children for over 31 years. She attended West Valley College and holds over 37 units in early child development. Ms. Laffoday is married with an 18 year-old son. She hopes to obtain her AA now that her son has graduated high school. Ms. Laffoday is truly passionate about teaching and strives to make her class a fun learning environment. In her spare time she enjoys cooking, baking and playing computer games!
Her favorite Bible verse is Psalm 20:4
"May He give you the desire of your heart and make all your plans succeed"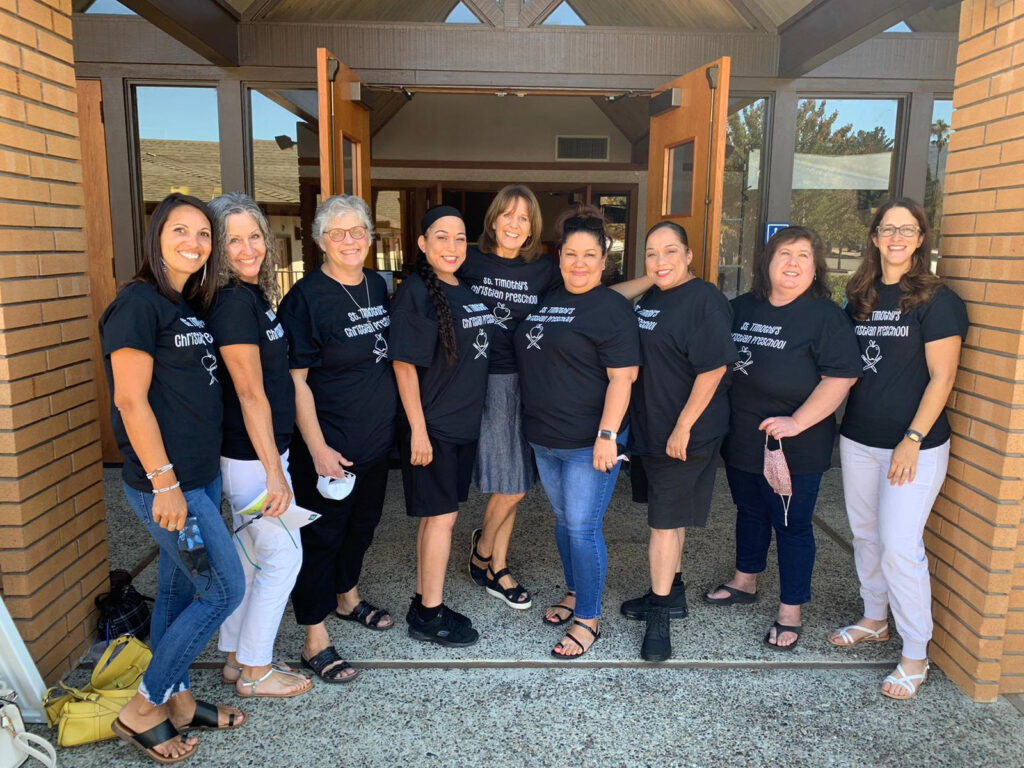 From left to right: Katie Feuquay, Pamela Taboada, Debra Mandanici, Sherene Saenz,
Katy Stamos, Valena Bocanegra, Shawnese Laffoday, Susan Mapes, Michelle Miller
Interested in joining our team? We accept resumes year-round.